A+ FRR Shipping and Returns Policies
Shipping Information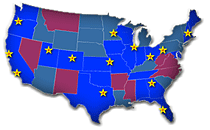 Click for FRR Distribution Centers
Expected UPS Delivery Times
New Customers: 1 to 4 Business Days
Existing Customers: 1 to 4 Business Days
A+ FRR provides fast, accurate ordering & shipping
All orders are securely processed within 24 hours

Shipping and handling costs are already included in the prices for all Flint River Ranch pet foods and products .
Flint River Ranch packs each shipment securely in a heavy-duty corrugated shipping box and delivers the foods to you via UPS, with shipping costs and taxes already included in the listed prices.
A+ Flint River Ranch orders typically ship via UPS within 1 to 24 business hours after we receive your order. Most shipments will arrive within 1 - 3 business days from shipment date, depending on weather conditions and your distance from the regional distribution center closest to you (State-by-state average delivery time comparison).
A+ Flint River Ranch delivers to the following states in the United States of America: Alabama, Arizona, Arkansas, California, Colorado, Connecticut, Delaware, District of Columbia, Florida, Georgia, Idaho, Illinois, Indiana, Iowa, Kansas, Kentucky, Louisiana, Maine, Maryland, Massachusetts, Michigan, Minnesota, Mississippi, Missouri, Montana, Nebraska, Nevada, New Hampshire, New Jersey, New Mexico, New York, North Carolina, North Dakota, Ohio, Oklahoma, Oregon, Pennsylvania, Rhode Island, South Carolina, South Dakota, Tennessee, Texas, Utah, Vermont, Virginia, Washington, West Virginia, Wisconsin and Wyoming.
We try to display the colors of our products as accurately as possible. Actual colors you see depend on your monitor and may vary from batch to batch. Additionally, product packaging does change from time to time and you may receive different packaging without notice for any of our products.
Prices and availability of the products and services listed on the site are subject to change without notice.
In the rare case of backorders or out-of-stock products, A+ Flint River Ranch will make every effort to get the item(s) back in stock and shipped to you as soon as possible. If we determine a product is no longer available, we will cancel the item from your order, refund you for the cost of the item, and contact you via email or phone.
Returns
A+ Flint River Ranch offers an Unconditional 100% Total Satisfaction Guaranteed 30-day Return Policy through Flint River Ranch. Under this policy, Flint River Ranch will refund the original product price for any Flint River Ranch food or product returned via prepaid shipping

within 30 days of customer receipt of order. Returned items need to be shipped to the closest of the two main Flint River Ranch regional distribution center locations:
East Coast (Atlanta, Georgia): Flint River Ranch, 245 Hembree Park Dr, Suite 110, Roswell GA 30076
West Coast: (Denver, CO): PSI Packaging (Flint River Ranch), 4040 S Holly St Unit 20, Denver CO 80216
To initiate a return, contact FRR toll free at (800) 354-6858 or email FRR Returns for a RAC (return authorization code) — this RAC is required before a return can be processed. FRR Returns will provide instructions and the correct return address to send the remaining product. Please include a copy of the original invoice, the RAC number, and a statement for the reason of return.
All "Automatic Shipments" returned will result in the cancellation of future Auto-Ships; you will need to contact us in order to reinstate your adjusted Auto-Ship schedule.
If a UPS Return Call Tag request is needed, the cost of the call tag will be deducted from any refund or credit.
For all orders past 30 days of original purchase, Flint River Ranch needs to be contacted directly at (800) 354-6858 for additional return guidelines.
Conditions of Use, Notices and Revisions
If you choose to visit A+ Flint River Ranch, your visit and any dispute over privacy is subject to this Notice and our Conditions of Use, including limitations on damages, arbitration of disputes and application of the law of the state of North Carolina. If you have any concern about privacy of your personal information as used and collected within our website, please send us a thorough description via our Contact A+ FRR page, and we will do our best to resolve it.
Our business changes constantly and our Privacy Notice and the Conditions of Use will change also. We may e-mail periodic reminders of our notices and conditions — unless you have instructed us not to — and you can also check our website to view recent changes. Unless stated otherwise, our current Privacy Notice applies to all information that we have about you and your account. We stand behind the promises we make and will never materially change our policies and practices to make them less protective of customer information collected in the past without the consent of affected customers.
The unauthorized use of any images, thumbnails, illustrations, descriptions, article content, site content or registered trademarks of A+ Flint River Ranch is strictly prohibited under copyright law. Site content, including images, photos, descriptions, pricing, promotions, and availability are subject to change without notice.
Questions
Questions regarding our Shipping and Return policies, Security & Privacy policies, Conditions of Usage or other policy-related material can be directed to our support staff via the Contact A+ FRR page.